Wired Security Systems
The world around us seems to be going wireless, one step at a time. Security systems are no different and wireless technologies have improved hugely in recent years. For some though, the comfort of a wired system makes more sense. Not having to think about changing batteries in detectors or worrying about the reliability of new technologies (although they are good).
DPA are Texecom Registered installers. Texecom offer a wide range of security products suitable for most situations. Their equipment is proven reliable and very popular within the security industry. This is why we choose to specify Texecom for our wired solutions.
To make things simple for our customers we have setup the packages below. Our packages offer great value for money whilst still allowing you to choose your personal preference in system design. All of our packages can easily be extended by specifying additional items from our list of extras (also below).
Take a look through the packages to see which best suits you and your property and then feel free to get in touch if you require additional information or wish to book for an installation.
Package 1 (Compact): Installed and fully commissioned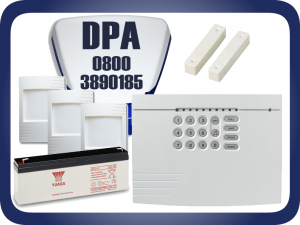 1 x Texecom Veritas 8c (Compact version) Panel
3 x Texecom Medusa PIR (Room Sensors)
1 x Door Contact (For entry route)
1 x Pyronix DeltaBell Backlit Bell Box with built in backup battery
1 x 2.4 Ah Panel Backup Battery (Manufacturer may vary from that shown in image)
Package 2 (Remote): Installed and fully commissioned
1 x Texecom Veritas R8 (Remote Keypad, very descrete) Panel
3 x Texecom Medusa PIR (Room Sensor)
1 x Door Contact (For entry route)
1 x Pyronix DeltaBell Backlit Bell Box with built in backup battery
1 x 2.4 Ah Panel Backup Battery (Manufacturer may vary from that shown in image)
Extras:
You can request any of the following extras to be installed at the time of installation for the quoted price. Having extras fitted after the initial installation will incur a small callout/installation charge on top of tha prices quoted below. Prices Include VAT
Speech Dialler – Allows for self monitoring of your system. Requires a BT or Virgin telephone line – £200.00
Pet PIRs – Room sensors that are design to allow for roaming pets within the detection area – £35.00
Additional Keypad – £60.00
Sound Bomb – A very loud internal sounder that will deter the thief if they do decide to try their chance – £35.00
Smoke Alarm – Linked to your security system – £50.00
Security Lighting – Installed around you property covering dark areas where you feel a need – £80.00 for first unit the £50.00 per additional unit